New, larger 21700 cell e-bike batteries from Samsung and German battery supplier BMZ, and a 20700 cell from Panasonic have pushed the envelope for e-bike power standards forward.
The battery suppliers showed off the incredible progress they've made in terms of the capacity and lifespan of their units at last month's show in Friedrichshafen, Germany. BMZ claim their new 21700 cell 3Tron battery system "is setting the standard" for e-bike batteries by lasting four times longer than standard e-bike batteries.
The new batteries are still using Lithium Ion technology, but improvements in the chemistry and internal structure of the batteries give up to 2,000 charge cycles, instead of the more usual 500 for current batteries. That, coupled with the increased capacity, means that batteries will likely last as long as the bike carrying them. Energy density is higher for the new cells, meaning that 700Wh batteries are likely to be commonplace by 2018.
>Read more: ebiketips's guide to electric bike batteries
The 3Tron battery, which was developed alongside another unnamed global battery manufacturer, is capable of retaining its charge over a 12-year lifespan thanks to three particular developments.
First, the greater number of cells give the battery a higher capacity, which in turn requires each cell to fully charge less frequently and as a result creates less heat, meaning the cells are less likely to deteriorate. A 21700 cell can have a capacity of 4.8Ah, as opposed to 3.5Ah for an 18650 cell. That gives a 40-cell e-bike battery a capacity of about 500Wh, a common standard battery size. 40 of the newer 21700 cells would be almost 700Wh of capacity.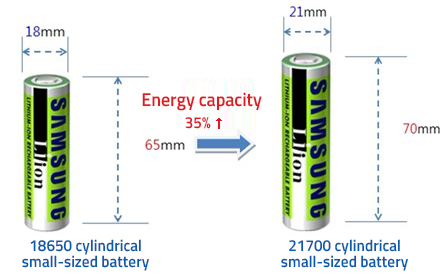 Capacity and length of life aren't the only steps forward BMZ's new battery offers. The unit also comes with high quality materials including stronger conductors and a greater proportion of active cell material which allows for a claimed 50% increase in energy supply and a 68% increase in output.
The three to fourfold increase in battery life span that BMZ has managed to create will revolutionise the industry. At least, that's what the German brand says.
"With 3Tron, BMZ is putting its trust in a completely new format," a BMZ statement read. "Instead of a 18650 (18mm diameter and 65mm high) cell size, 3Tron will be produced as a size 21700 cell (21mm diameter and 70mm high).
"The increase in output would not be possible with the standard format. The 3Tron battery system, as the first 21700 format system worldwide, is setting the standard in this new class – because it is clear that other manufacturers will follow and produce 21700 format batteries as well: the development possibilities of the 18650 cell format are exhausted."
BMZ claim that "the 3Tron's discharge current is actually four times higher than that of standard battery cells. It is also lighter due to the premium materials used – as if predestined for the e-bike field."
Panasonic's new 20700 cell battery, while smaller than BMZ's offering, is still bigger than any batteries they currently offer.
The 20mm wide and 70mm high unit is slightly shorter than BMZ's unit and is targeting e-MTBs that contain the battery within the bike's downtube.
The two varients Panasonic will offer are both 36V integrated battereis with the option of 8Ah or 12Ah allowing for 288Wh and 432Wh of power.