You may remember that we told you about the Swytch system when we saw it at the Cycle Show at the NEC. It's a simple motor conversion system with a clever bar-mounted battery, and it's now funding on Indiegogo. And at time of writing, it's more or less reached its goal after a single day.
The system consists of a hub motor, a magnetic cadence sensor and a battery bag that uses a simple, patented bar mount to fit to your bike. So you can easily take the battery away with you, or just not fit it if you don't need power for a certain ride.

The battery bag contains not just the battery (180Wh and 360Wh options are available) but also the battery management system, the controls (in a panel on top of the bag) and even a light: that Swytch logo on the front lights up to get you seen in the city.

As is ever and so with crowdfunding, you can get some bargains here by taking the risk of being an early adopter. The 180Wh kit is just $299, just £227 at today's exchange rate. You'll do well to convert a bike for less than that. The 360Wh kit is $350 (£265).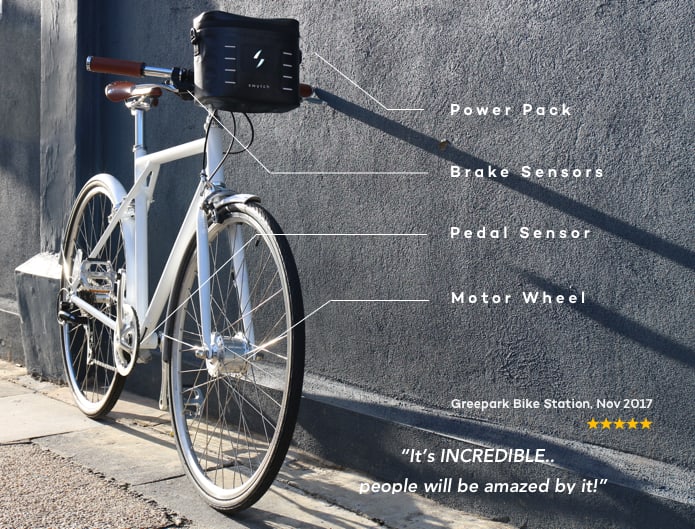 If you don't fancy putting the bike together yourself then you can get the Swytch system fitted to a 7-speed city bike for just $599, or £455 in UK money. You read that right: a whole e-bike for less than £500, and that's with the bigger battery too. Not bad, eh? The complete bike is available in black or white, and in diamond and low-step frames.
If you want to get in on the action, you've got a month: head over to the Indiegogo page for more info.